Classy Lane Stables Training Centre
On January 4, 2016, Classy Lane Stables Training Centre in Puslinch Township, Ontario, lost one of their barns to a fire, resulting in the deaths of 43 racehorses. The Ontario Fire Marshall determined that the fire was caused by an electrical failure. The barn has been rebuilt with "state of the art" fire protection systems and the other four barns have been retrofitted with the same systems. The owners of Classy Lane have generously offered to share their experience in rebuilding, in hope that no one else has to experience losing their animals in a fire. Here is what they did:
4 fire extingushers (all 4 corners of the barn)
Surge protector on the main electrical panel
Arc fault outlets throughout
No box style fans - only industrial ones
All appliances, phone chargers are plugged inside enclosed rooms
Heat/Smoke Detetors in shed row with alarm and strob light that will go off outside the barn .... also manual pull switch at each end of the barn so that it can be activated manually
Haven Heat Detectors in offices and laundry room that release a non-toxic dry powder fire suppressant
Automatic door closers on offices and laundry room to ensure doors are not left open
Timer on dryer so that it cannot be used after hours
Signs giving address for a 911 call
No smoking signs inside the barn - metal buckets outside the barn for cigarette disposal, kept filled with sand and water
Use of only heavy duty extension cords in the barn
Hay storage is kept to a minimum
Local fire department given a map of the barns, details on content (for example there are windows on the second storey, but they are just for looks, no one lives there.)
New Barn
The new Barn 6 replaced Barn 1 in May, 2016, with a memorial garden to the 43 horses who died, their names engraved in granite.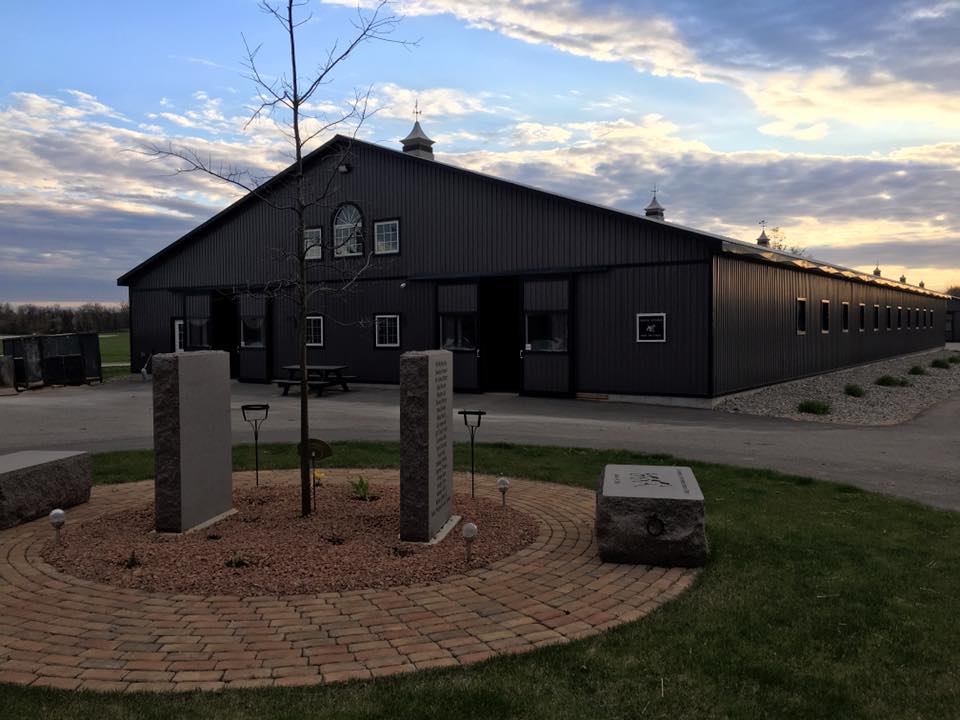 Photo: Barb Millier >